It's been more than a year since the pandemic, and we can see that more and more companies as well as end users are loving the digital shift. Now whether you are an early adopter or not, it really doesn't matter, what matters the most is that you need to examine the technology seamlessly, consider the physical infrastructure, recruit the best talent possible, and deploy relevant solutions to gain a competitive edge.
Now I am pretty sure you must have come across a term called eCommerce & how it works. eCommerce is the process of buying and selling a wide range of products online. Amazon, Flipkart, Myntra, and eBay are some of the best examples to consider when willing to jump into the profit-spinning realm. According to several sources, eCommerce sales seem to grow by around 5.2 trillion U.S. dollars worldwide and this was back in 2021, the numbers are growing now and then, and it is expected to grow by 8.1 trillion dollars by 2026. And as per the Statista reports, WooCommerce is the largest platform that caters to market share.
The evolving digitalization cannot and shouldn't be ignored at any rate. Several studies have stated that eighty-one percent of shoppers tend to research well about the product and then purchase it online. And not just that, even if they are planning to buy from a brick-and-mortar store, customers tend to pull out their smartphones to compare the product in regards to review, details, and pricing of the product with the competitors right before clicking the buy option. This brings us to our next segment, what are the best eCommerce platforms, and how do choose the right platform wisely?
Best eCommerce Platforms to consider
Now the competition between eCommerce platforms can be pretty overwhelming and tricky since there are so many options available. However, picking any of these randomly could be quite dangerous since it might lead to unseen and unexpected issues. So think hard before you make any random choice. Also, knowing every platform inside out could be quite helpful. So here's a small list of the best eCommerce platforms to take into account for 2023. Trust me, all the below-mentioned options have a proven record of offering versatile, eye-catching, and highly flexible applications. So let's begin!
#1 WooCommerce
One of the best eCommerce platforms to take into account is WooCommerce, you see over the years especially suitable from its inception days till today, WooCommerce has been ranked among one of the top-rated eCommerce platforms. And to be precise, its adoption rate is not going to slow down any time soon. Also, not to mention WooCommerce developers keep on introducing more and more updates, features, and functionalities like none other. One of the core reasons behind WooCommerce's endless popularity is that it is a simple, easy, and free-to-use plugin that was developed for WordPress.
So wondering why the open source, easy-to-use platform is used in the development of millions of sites across the globe. Here I would like to mention some common yet crucial benefits offered by WooCommerce.
Free WordPress Plugin – Since WooCommerce was created to assist WordPress developers, here you are bound to receive a wide range of content editing tools and technologies. The platform can assist well in managing your eCommerce website as well as the blogging platform in a pretty seamless manner.
Full control of data – Another crucial benefit offered by WordPress include that you get to have full control of your data. No matter what, the risk of losing your critical data is pretty low. The platform knows the significance of data and ensures that no bad guys can get away with what they want.
Thousands of unique store designs – With a plethora of unique store designs available, businesses can keep on switching back and forth between different themes and keep the website well-updated and secured.
Tons of features available – Woocommerce comprises a variety of features and functionalities such as different location customization, language, measurement, built-in blog, easy product categories management, tags and a wide range of attributes, rating and reviewing products, product filtering, and sorting out well.
Security – With so many security breaches happening day in and day out, one must consider a platform that turns out to be the best in terms of security. It's about offering a more reliable and safer environment to the end users.
SEO-friendly – Now, of course, you aren't developing a website just for the sake of it. You need to consider platforms that are SEO-friendly and assist well in ranking the website within a pretty short time. Woocommerce has quite an intuitive interface, making SEO optimization easier and better.
#2 BigCommerce
The next contender we have is BigCommerce. Over a few years, astronomical growth has been observed in the websites or web stores developed using BigCommerce. Now BigCommerce is a renowned eCommerce platform that offers all types of services such as creating online stores, search engine optimization, seamless hosting, marketing services, and whatnot!
Till now BigCommerce seems to have powered more than 600,000 stores over 150 countries. And some of the best examples of brands that have been vouching for BigCommerce include Ben & Jerry's, Molton Brown, S.C. Johnson, Skullcandy, Sony, Vodafone, and Woolrich. Further, I would like to mention some of the common yet crucial benefits of using BigCommerce.
Easy to begin with – One of the obvious benefits of considering BigCommerce includes being easy to get started with. You see BigCommerce is one such platform that offers quick and easy onboarding. So it really doesn't matter whether the programmer is new or highly experienced, using BigCommerce can be a cakewalk. And that's the reason why experts say, you just have to try and forget worrying about whether you are a technical expert or not.
Managing products becomes seamless – Another crucial reason for considering BigCommerce is that managing products becomes pretty much seamless and easy to do. You see BigCommerce offers quite an easy-to-use interface. Some crucial features such as a quick search bar enable users to access products easily and manage them in a single go. In addition, handling more and more customers is quite easy.
SEO-friendly – Again this one is SEO-friendly. Much like WooCommerce, BigCommerce is SEO-friendly. After all, you are not trying to create a store that is not well-optimized. Your store needs to be capable enough to stay in tandem with ever-changing algorithms. Not to mention, BigCommerce platforms tend to follow the most up-to-date SEO practices.
#3 Magento
Another best eCommerce platform to take into account is Magento. Well, if you have been exploring the eCommerce realm for a while then I am sure you must have heard about Magento. It is the second largest market share and why not since this open-source platform tends to offer high-end customization? So is Magento the right platform for you or not? Well, since it's robust, flexible, scalable, and open-source, why the heck not? Some of the crucial benefits offered by Magento include:
Highly featured and powerful – One of the most obvious benefits offered by Magento is they are highly featured and powerful. It doesn't matter how many types of products or orders you will end up catering in your Magento store but yes the platform is powerful enough to cater to all your needs seamlessly. Here you can set up filters and navigation in such a way that boosts conversations to a great extent.
SEO-friendly – Again much like BigCommerce and WooCommerce, Magento works wonders regarding SEO—the overall process of optimizing product pages and descriptions after using Magento enterprise edition. Magento assists pretty well in generating SEO-friendly URLs. Here websites are pretty responsive and compatible across all types of devices and browsers. So don't worry, your store will rock regarding customer experience.
Quick loading speed – With the attention span lowering day by day, website owners are often expected to develop websites that load within 3 seconds. And this has nothing to do with how heavy the load is right now in your store.
Flexible content management – Next benefit offered by Magento is flexible content management. You see tons and tons of content being posted online so what's more important is to manage it seamlessly and Magento can successfully do so. It enables store owners to customize the offerings and ensure that the store becomes user-friendly in a pretty less amount of time. Here in Magento, it's more like what you see is what you get. So here web pages can be edited well even if you aren't technically sound.
Highly customized – What makes an eCommerce store a cut above? It's the look and the feel of the store. Now developing a fully customized store requires so much especially since the coding must be done from scratch. Also, several options must be taken into accounts such as payment, shipment, and language so that more and more customers can be catered to.
#4 Shopify
Our next amazing, intimidating, intriguing eCommerce platform to consider is Shopify. Shopify over these years has managed to create a reputation like never before. And not to forget, it has continued to maintain its dominance. So why exactly is Shopify on this particular list? Well, it offers numerous advantages such as:
Easy to get started with – Much like Magento, even Shopify is pretty easy to get started with. Yes, here you don't require a team of technically sound experts, anyone can the eCommerce store within a few periods. Also, the interface here is pretty clean and intuitive and comprises features that are logically structured.
Secured – Another crucial advantage of using Shopify is that it is way safer and more secure. Yes, you see, launching an eCommerce store is no child's play. Here you are dealing with tons and tons of sensitive information of your valued users, you cannot just let it go simply in the hands of the bad guys. Shopify altogether is reliable and highly secure.
24/7 support – Another crucial reason for choosing Shopify is that it offers 24/7 support. So in case, if the developer gets stuck in between then they no longer have to worry because they can receive help anywhere and anytime. Whether it's via phone, email, or skype call, help can be received in no time. Also, there are a plethora of community forums, extensive documentation, Shopify help center to consider.
On Shopify platforms, you can offer a wide range of products such as handcrafted goods, beauty supplies, home goods, events, cards, eBooks, digital products, clothing, outdoor gear, and a lot more!
#5 3D cart
The last but certainly not the least eCommerce platform to take into account is a 3D cart. Now why this one is said to be the last because it still requires improvement and enhancement. So why a 3D cart? Well, if your website involves heavy traffic then I say why not? The US-based e-commerce platform has the potential to serve more than 22000 merchants. Some of its core benefits include:
Easy to use – Much like all the aforementioned eCommerce platforms, this one is also easy to use. Here you get a 15-day trial and you can even ask for an extension when needed. The moment you sign up, you will receive a welcome mail featuring the user login, password, and site's URL.
Web hosting – Here you get secure, PCI-compliant web hosting services for enhancing your online business and enabling developers to pick a unique domain name like never before. Some other core benefits of a 3D cart include unlimited bandwidth, email hosting, daily backups, disk space, monthly software updates, an SSL certificate, and FTP access to files.
Security – Lastly, security is another crucial factor that makes a 3D cart worth taking a look at. 3D cart comprises a 256-bit SSL certificate that has the potential to secure all the web pages. Also, the platform offers a track record of 99.94% uptime. In addition, here you will find Cloudflare's CDN, which comprises DDoS attack mitigation and protection just to ensure that your website is more secure and safe.
Conclusion
And that's all for now! I hope you enjoyed reading about the best eCommerce platforms available across the globe. And now you have your answer about which platform to pick for your upcoming eCommerce development project. In case, if you have any doubts or queries, you must consider hiring a reliable eCommerce development company that offers expertise and excellence in a short time.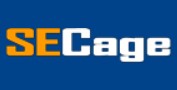 The Search Engine Cage team is on a mission to educate entrepreneurs. We make things easier for the small business owner, by writing articles that help them to understand SEO and Digital Marketing.