Technology has changed everything about event planning. It is more than preparing attendee lists, booking venues, and arranging food and entertainment. With 80% of marketers relying on business events, it surely makes sense to integrate technology into them to achieve success and engagement.
Beyond making the program stand out in a competitive landscape, using technology can help you save time, money, and effort. The best part is that you needn't be a tech wizard to do it. And you also don't have to spend a fortune on fancy stuff. Let's share the top tech tips to make your business event a game-changer.
Spread the word with social media buzz
Spreading the word is perhaps the most significant aspect of event planning. After all, you cannot expect people to turn up without creating a buzz about it. A robust social media campaign can help you do the trick.
Create a unique and catchy hashtag to get people talking. Share updates, post content, and host contests to get more foot traffic to the venue. You'll see crowds turning up with savvy use of social media.
Share invites online
Technology can help you save time, money, and effort by skipping the old-fashioned ways to invite attendees to your event. You can create sign-up forms in a few clicks and share them with the invitees online.
Check sign up forms to understand how to make the most of the technology. The best part is that users can fill it up on the go, making it easy to reach out and get more sign-ups without the physical work.
Win with tech check-in
You can say goodbye to old-school registration desks and make check-in a breeze with technology. All you need to do is to set up self-check-in kiosks with a software app. You can even use QR codes for a quick and seamless registration process.
Attendees have to scan their codes to check in with minimal effort. The system can end the struggle of long queues and endless waits.
Create mind-blowing visuals
Your attendees won't appreciate boring PowerPoint slides for hours, right? You've got to level up your event visual game, and technology can help you do it. Invest in a high-resolution LED video wall to bring your presentations to life.
Leverage virtual reality and augmented reality in your visuals to give your attendees an immersive experience. Throwing in some interactive elements also helps you to keep them hooked.
Win the game with live streaming
You don't need to limit your business event only to the physical attendees in your area. You can leverage the magic of live streaming to take it global. Set up multiple cameras to capture the energy of your event and stream it via platforms like YouTube or Facebook Live.
The technology helps you reach a broader audience, create a buzz, and build brand awareness without massive spending. It's like hosting a virtual party!
Event technology has changed the game for businesses looking to host killer events without breaking the bank. Follow these ideas to achieve more with less. You've got this, boss!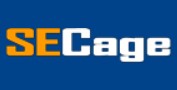 The Search Engine Cage team is on a mission to educate entrepreneurs. We make things easier for the small business owner, by writing articles that help them to understand SEO and Digital Marketing.