In a website's pursuit of organic rankings, Backlinks or Offpage are crucial factors, and its been rightly hyped in the SEO market but equally misunderstood by the vast majority of SEO experts. Yes, a latent website struggling among its competitors can achieve a bump in its ranking by executing an effective backlink strategy. There is a lot of data and case studies to support the capabilities of backlinks and their positive impact on website ranking.
The digital marketing community has polarized views on backlinks, and many have settled to call it a Gray hat Strategy. However, the arguments lag in providing insights into the Backlink strategy's quality, approach, and knowledge.
The Need for Backlinks
So why is there a need for backlinks, and is a certain number of backlinks enough? If you aren't aware of backlinks, you need to read this. Backlinks are a way of piggybacking your website on existing websites that are already ranking higher and have built their reputation. You will establish your presence based on the importance and ranking of the website on which you will include your backlink.
Take, for instance; there is the website spiesekarterecipees.com. Suppose that website is at the top. Now you have a website that sells food products and groceries; however, it doesn't rank well. You then request spiesekartereceipees.com to include a backlink to your website. This will allow an exchange of traffic in your niche. Hence, there is a need for backlinks if your website needs to grow faster and stay ahead in the highly competitive digital space.
Understanding the Mechanism of Backlinks
The previous example was only the tip of the iceberg. You need to understand the mechanism of Backlinks, which will help you determine if you really need them. First off, backlinks are also termed inbound links or hyperlinks. You can link your website to other highly-ranking and best-performing websites. Therefore, Google thinks of it as a "Stamp of Approval" for your website.
When users on highly-ranking websites click on the hyperlink, they are redirected to your website, allowing you an exchange of traffic. Hence, you can establish good visibility and awareness by including backlinks in your marketing strategy.
Why Do Backlinks Give a Push to Boost Website Ranking?
Remember that the digital space is highly competitive. Over millions of websites in your niche want to rank at the top in SERP and boost their visibility. You need to work on multiple factors to stand out and gain a bump in your web ranking. Backlink strategy and content quality are a factor that immensely impacts web ranking.
A boost in website ranking is possible with a backlink strategy because it guarantees the exchange of traffic from websites that are already ranking at the top. It ensures that you are on good terms with meeting the criteria to bump up your position in SERP. Besides, you should try out all possibilities in a highly competitive space.
Quality and Quantity: Both Matter Equally for Backlinks
Of course, you create a two-way gateway by adding backlinks. You can go all out and include a backlink for your website across multiple websites. However, did you also check the website quality on which you link your websites? It is evident that quantity is not always an asset for your backlink strategy.
Therefore, associating your platform with websites that don't have a good reputation and lack quality can transfer that reputation to you. Hence, your efforts in link-building strategy will not be successful, and it can impact your ranking.
It is crucial that quality and quantity should be considered in backlink building strategy. It is the essence of achieving success. Adding backlinks to poor-quality websites will be regarded as a Back Hat strategy, and your ranking will be affected. If you want to know more about white and black hat seo check our detailed guide here.
Hence, think wisely about this and don't fall for foolish backlink strategies that promise you backlinks to 100 websites that are irrelevant to your niche and your domain.
Understanding the density of Backlinks on Your Website
With this mechanism, it is evident that adding a backlink to your website on as many websites as possible is the way to go. If you add more backlinks, it also increases the probability of a higher exchange of traffic. People will discover you quickly, and you will have a higher chance of success. Logically, it makes sense, isn't it?
You can keep adding backlinks to as many websites as possible. You got it right! It is too good to be true, and one needs direction for an effective strategy. Yes, that's right, only adding backlinks in excess on all websites will do you no good.
Is Buying Bulk Backlinks Worth It?
Buying backlinks in bulk is considered the easiest way to build links. It can be hassle-free and can help you save a ton on investments in marketing strategies. However, you must be wise enough to know if the deal is right for your website. Getting backlinks can result in algorithmic and manual penalties.
If you invest in such bulk packages for backlinks, then you are investing in your downfall. Well, again, you need to remember that quantity of backlinks is not everything; your website also needs to be linked with quality web pages. Therefore, your job is to cross-verify it and find the best deal. Not all bulk backlinks are bad!
How to Check the Quality of Backlinks?
Well, since there are many references to the quality of backlinks. It is crucial that you know how to check the quality of backlinks. Here are some of the aspects that you need to check while finding quality backlinks;
1) Domain Authority
There are many tools available to check the domain authority of a website. You will be surprised to know how beneficial it can be for your website. This shows the performance of the website in its domain and the uniqueness of its IP address. Additionally, it creates a record of all the website performance. Hence, doing a quick domain authority check will not harm you.
2) Content Quality
Well, there is no compromise on this. Content quality is essential and directly indicates that people start trusting your pitch. If you link your website with a poor quality content web page, it will create a bad reputation. Hence, it is crucial that you check for content quality. You can do this by manually reading and looking at its performance and bounce rate factors.
3) SERP Ranking
Is the website on which you wish to add a backlink ranking higher in SERP? Well, if not, ensure it at least ranks at the top. Linking your website with pages that don't even make it to the top 10 will not put your efforts in vain. Hence, be on the lookout for such websites, especially in your niche, if they rank higher.
4) Niche Relevance
It is crucial that the linking between websites is done in a niche bubble. This means that your websites should have common grounds of similar interests and target audiences. For instance, if you have a website that hosts recipes, you can link with websites that sell food items and groceries. This makes a great-quality backlink.
5) And More
Other website factors like technical SEO, IP address, and more should also be considered while finding quality backlinks. Hence, it becomes essential that you use tools that allow you to generate metrics giving you insights into the quality of the backlinks.
How to acquire more quality backlinks?
Firstly, you should know that acquiring a good quality backlink is not an easy task. Even if you get two or three good-quality backlinks, it will significantly impact your website ranking. So how do you go about getting high-quality backlinks? Take a look at it!
Make a great pitch to potential websites.
Allow potential websites to know what you can offer on the table.
Make your pitch in such a way that it reflects a symbiotic relationship.
Perform a thorough search on relevant websites in your niche.
Don't send a streamlined pitch. Instead, working on a personalized pitch based on the website.
Working on these aspects will help you land good quality websites, allowing them to add your website's link. Besides, some digital marketing agencies also assist you with this.
Why is a High Quantity of backlinks important for your digital success?
Success with backlinks is guaranteed when you can add your website to high-quality websites and build your reputation from pre-established websites. Well, you must remember that a certain number of backlinks will not guarantee success. Hence, instead of focusing on the number, focus on how the linking will benefit your website. This will help you go ahead.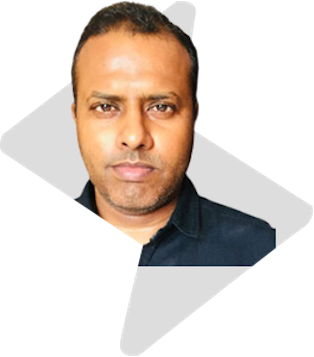 Amit has spent his career working in Sales & Marketing for some of the best Multi-National Brands before getting into SEO & Digital Marketing and has been the guiding force behind our Content & Sales Outreach. Most recently as a Marketing lead for RankJacker, Amit engineered a number of cutting-edge Outreach Strategies & led multiple autonomous campaigns to bring about an insane number of prospects into our funnel.