A strong online presence and high rank in the search engine results pages (SERPs) are critical to ensuring your company's success. Unfortunately, search engine optimization (SEO) is never easy for businesses to master. To stay ahead of the curve, it's wise to work with a B2B SEO agency.
Generally, the best B2B SEO agency focuses on helping companies leverage search engines in the business-to-business industry. It has a team of highly experienced specialists who understand and navigate search engines well to help your company thrive online, regardless of your niche. So, if you want to level up your online presence, consider hiring a B2B SEO agency.
However, you have to keep in mind that not all B2B SEO agencies are the same. While some may provide you with quality services, others may only waste your time and money. If you want to settle with the most reputable agency in the industry, here are the things you should look for:
1. Experience
A reliable SEO agency for B2B companies must have experience and knowledge about leveraging SEO techniques in the B2B landscape. They must be able to show some case studies of their previous clients for you to determine whether or not they're the best fit for your needs.
Ideally, a good agency is one that has a specific experience in your industry. Agencies with knowledge of your industry can quickly suggest techniques or tailor a customized strategy to help you grow your brand and achieve your goals over time.
2. Proven Track Record
Once you check a B2B SEO agency's portfolio, you should always look for real results. Any agency can claim that they can deliver results, but they should have proof to back up their claims. So, as you compare the different B2B SEO agencies in the market, consider their proven track record and never forget to look for evidence.
As a B2B company owner, you want to work with an agency with an excellent track record. This way, you'll know if an agency can help your business succeed and reach various metrics, such as increased traffic and reduced bounce rate.
3. Customer Service
Customer service is another thing to look for in a B2B SEO agency. The best agency is committed to communicating with you constantly and sharing updates on your campaigns.
If an agency has excellent customer service, it'll help you understand how to implement the best SEO strategies to leverage better results. So, find a company capable of guiding you throughout the process.
One way to check the agency's customer service is to read testimonials and reviews from their previous clients.
4. Reviews And Client Testimonials
If you want to know what it's like to work with your preferred B2B SEO agency, check reviews and testimonials about the said company. These will help you understand how the agency works to provide solutions for their clients. You'll also get insights into their services and how satisfied clients are. So, if an agency has many positive testimonials, it's an indication that they produce excellent results.
Moreover, reading negative and positive reviews about your prospective agency can help you get the company's overall picture. It's also an excellent chance to see how they respond to their clients' reviews.
5. Offered Services
B2B SEO agencies vary as to the services they offer. While some agencies focus on SEO services only, others may offer other services beyond SEO. If you want to work with the right agency, know what services you need for your business. If possible, opt for an agency that offers complete services, so you don't have to work with another company.
6. Pricing
Regardless of your budget, price is a crucial factor to consider. However, before you check the pricing of every B2B SEO agency, it may come in handy to determine your budget first. This way, it'll be much easier to find an agency that can provide solutions within what you can afford.
The pricing of agencies may depend on various things, such as their expertise and the quality of their services. If an agency offers too-good-to-be-true fees, it's a red flag because you'll most likely get poor-quality services. But, it also doesn't mean that the most expensive agency offers the best services. It's important to note that there are agencies that provide services at reasonable rates.
Depending on your needs or budget, spend more time comparing the different rates of various B2B SEO agencies. Then, filter those that are within your budget range and settle with the agency that offers quality services at competitive prices to get the best value for your investment.
7. White Hat Practices
If you want to get the best results with your B2B SEO marketing campaigns, one of the things you should look for in an agency is whether or not it uses white hat practices. These techniques include using effective keywords, creating quality content and backlinks, and effectively incorporating SEO trends for B2B companies. Although they don't deliver instant results, they can help rank your websites naturally, and such practices abide by the search engines' rules.
On the contrary, black hat SEO can be terrible for your company because it involves link farming, keyword stuffing, and cloaking techniques. These are unethical SEO practices that may hurt your website, leading to penalties or fines over time. Even if the results are fast with black hat SEO practices, they don't provide long-standing results and rankings.
So, if your preferred B2B SEO agency guarantees high rankings in a short period, they're probably using black hat SEO techniques. Keep in mind that SEO takes time to generate results. Any agency promising a quick uptick isn't worth your investment and may only ruin your company's reputation. Therefore, always work with an agency that uses white hat practices to get guaranteed quality results.
Conclusion
Hiring the right B2B SEO agency can make a huge difference in achieving your marketing goals and staying ahead in today's highly competitive market. By keeping the above information in mind, you'll never have a hard time finding the best agency for your company. Just make sure you never rush the selection process and choose quality over price.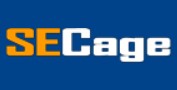 The Search Engine Cage team is on a mission to educate entrepreneurs. We make things easier for the small business owner, by writing articles that help them to understand SEO and Digital Marketing.