Thingiverse, a popular online platform for sharing 3D printable models, offers a wide range of applications (apps) that complement and enhance the 3D printing experience. These apps are designed to streamline various aspects of the 3D printing workflow, from model preparation and slicing to remote monitoring and control. In this article, we will delve into the world of Thingiverse apps, exploring their functionalities and how they contribute to the ever-evolving landscape of 3D printing.
Table of Contents
Thingiverse Web Apps
Thingiverse Web Apps are online applications that offer a range of functionalities, such as model optimization, cloud printing integration, and Minecraft conversions, to enhance the 3D printing experience directly from the Thingiverse platform.
MakePrintable Web App: The MakePrintable web app offers a comprehensive set of tools for optimizing and repairing 3D models. It can automatically fix common issues like mesh errors, non-manifold geometry, and wall thickness problems. With MakePrintable, users can ensure that their models are printable and achieve better results on their 3D printers.
Print it Cloud: Print it Cloud provides a seamless connection between Thingiverse and cloud-based 3D printing services. This web app allows users to send their 3D models directly to supported 3D printing services for easy and convenient printing. It simplifies the process of ordering prints, making it accessible to users without their own 3D printers.
Printcraft: Printcraft is a unique web app that enables users to convert their 3D models into Minecraft creations. With Printcraft, users can bring their virtual designs into the popular block-building game, allowing for a fascinating crossover between the digital and physical worlds.
Thingiverse Desktop Apps
Thingiverse Desktop Apps are software applications that provide tools for managing and controlling 3D printers, including features like model preparation, slicing, and batch printing, enhancing the 3D printing workflow on users' desktop computers.
MakerBot Desktop: MakerBot Desktop is a powerful desktop application that provides a comprehensive set of tools for managing and controlling MakerBot 3D printers. It allows users to import, prepare, and slice 3D models, as well as monitor and control the printing process. With its intuitive interface and advanced features, MakerBot Desktop is a valuable tool for MakerBot printer owners.
The Foundry: The Foundry is a desktop application that simplifies the process of 3D printing multiple models simultaneously. It enables users to arrange multiple models on the build plate, optimize print settings, and generate a single G-code file for efficient batch printing. The Foundry is particularly useful for users who want to maximize the productivity of their 3D printers.
ThingiExplorer: ThingiExplorer is a desktop app that offers an intuitive way to explore and discover 3D printable models on Thingiverse. It provides a visual interface where users can navigate through various categories, search for specific models, and view detailed information about each design. ThingiExplorer simplifies the process of finding inspiring models for users' next 3D printing projects.
Thingiverse iOS Apps
Thingiverse iOS Apps are mobile applications designed for iOS devices that offer features such as 3D modeling, educational tools, and augmented reality (AR) integration, allowing users to explore, create, and interact with 3D printing directly from their iPhones or iPads.
There are a number of Thingiverse iOS apps available, each with its own unique features and benefits.
Morphi: Morphi is an iOS app that empowers users to create and modify 3D designs directly on their iPads or iPhones. It offers a user-friendly interface with powerful modeling tools, making it accessible to users of all skill levels. Morphi enables users to unleash their creativity and design custom 3D models effortlessly.
Makers Empire: Makers Empire is an educational iOS app that introduces students to the world of 3D design and printing. It provides a structured learning environment where students can develop their design skills and bring their creations to life using 3D printers. Makers Empire promotes creativity and problem-solving skills, making it a valuable tool for educators.
3DBear AR iOS: 3DBear AR iOS combines the power of augmented reality (AR) with 3D printing. It allows users to place 3D models in their real-world environment using their iOS devices. With 3DBear AR iOS, users can preview and visualize how their 3D prints will look in the physical world before sending them to the printer.
Thingiverse Android Apps
Thingiverse Android Apps are mobile applications developed for Android devices, providing Android users with a platform to browse, download, and explore 3D printable models, as well as offering features like 3D model visualization and convenient home screen widgets for easy access to Thingiverse content.
Thingiverse Android App: The Thingiverse Android app provides Android users with a convenient way to browse, discover, and download 3D printable models from the vast Thingiverse library. It offers an optimized mobile experience, allowing users to explore the world of 3D printing on their Android devices.
Graphite: Graphite is an Android app that focuses on 3D model visualization and exploration. It enables users to view and manipulate 3D models in real time, providing a dynamic and immersive experience. Graphite is a handy tool for evaluating and inspecting 3D models before printing.
ThingiWidget for Android: ThingiWidget for Android is a widget app that brings the power of Thingiverse directly to the Android home screen. It provides quick access to featured, popular, and new designs on Thingiverse, allowing users to stay updated and inspired without launching the full Thingiverse app.
Thingiverse Thing Apps
Thingiverse Thing Apps are specialized applications that integrate with the Thingiverse platform, offering functionalities such as print ordering, cloud connectivity, and seamless integration with other 3D printing services, simplifying the process of turning virtual designs into physical objects.
3D Print with Print a Thing: 3D Print with Print a Thing is a Thing app that integrates seamlessly with the Print a Thing platform. It enables users to order high-quality prints of their favorite Thingiverse designs directly from the app. 3D Print with Print a Thing simplifies the process of turning virtual designs into physical objects.
3D Print with Treatstock: 3D Print with Treatstock is a Thing app that provides an easy way to order 3D prints from Treatstock's network of professional 3D printing services. It offers a streamlined interface for selecting materials, finishes, and quantities, ensuring a smooth and hassle-free print-ordering process.
Print with AstroPrint: Print with AstroPrint integrates the power of the AstroPrint cloud platform with Thingiverse. It allows users to send their 3D models directly to AstroPrint-enabled 3D printers for remote monitoring and control. With Print with AstroPrint, users can manage their print jobs conveniently from anywhere.
How do I download 3D files from Thingiverse?
Unleash your creativity by downloading 3D files from Thingiverse, a digital haven for makers and designers. Let's embark on a step-by-step journey to acquire these virtual blueprints for physical creations:
Exploring the Realm of Possibilities: Begin your adventure by navigating Thingiverse's extensive collection of 3D models, a testament to the ingenuity of the maker community. Utilize the search bar to locate a specific design that sparks your imagination.
Venturing into the Model's Domain: Once you've identified the desired 3D model, click on its image or title to enter its dedicated page. This realm holds comprehensive information and resources related to the model.
Unveiling the 'Thing Files' Repository: As you scroll down the model's page, you'll encounter the pivotal section known as 'Thing Files'. This repository houses the various file formats available for downloading.
Deciphering the Language of File Formats: Amongst the available file formats, STL stands as the predominant choice for 3D printing. However, other formats may also be present, catering to specific software or applications.
Initiating the Download Process: Upon identifying the desired file format, click the corresponding "Download" button. This action triggers the transfer of the file to your computer's designated download location.
Verifying Download Completion: Once the download process concludes, venture into your computer's downloads folder to confirm that the file has been successfully saved. This ensures you have the necessary blueprint for materializing your 3D creation.
Enhancing Your 3D Downloading Experience:
If multiple files are associated with the model, ensure you download all relevant files to have a complete set of instructions for your 3D project.
Consider establishing a dedicated folder for storing your downloaded 3D files. This organizational approach will prevent digital clutter and streamline your creative workflow.
Before embarking on a downloading spree, confirm that your computer possesses ample storage space to accommodate the incoming files. This foresight prevents any unexpected disruptions in your 3D printing endeavors.
Conclusion
Thingiverse apps open up new possibilities and enhance the 3D printing experience for users across various platforms. Whether through web apps, desktop apps, iOS apps, Android apps, or Thing apps, these applications provide valuable features such as model repair, cloud connectivity, design creation, batch printing, and more. As the 3D printing ecosystem continues to evolve, Thingiverse apps play a vital role in making the technology accessible, intuitive, and enjoyable for users of all skill levels.
FAQs
Is there an app for Thingiverse?
Yes, there are several apps available for Thingiverse, including the official app from Thingiverse, Thingiverse Mobile, and Thingiverse Downloader.
Is it legal to sell 3D prints from Thingiverse?
It depends on the license of the 3D model. Most 3D models on Thingiverse are licensed for non-commercial use only, but there are some models that are licensed for commercial use.
What apps do I need to 3D print?
The essential apps that all 3D printers need are a slicer, print management software, and a 3D printer controller. Other helpful apps include CAD software, a 3D model viewer, and 3D printing troubleshooting software.
How do I download 3D prints from Thingiverse?
To download a 3D print from Thingiverse, you need to create an account and log in. Once you are logged in, you can browse the 3D models and find the one that you want to download. Click on the "Download" button below the model to download the 3D file.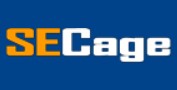 The Search Engine Cage team is on a mission to educate entrepreneurs. We make things easier for the small business owner, by writing articles that help them to understand SEO and Digital Marketing.