Free SVG icons are the modern heroes in the design domain, and logo design is no exception. In today's marketing-driven world, logos have become a defining symbol of brand identification. Every company needs a logo to capture the attention of its target audience and make a lasting impression. Plus, they make your task easier. If you've heard the walls whisper about the usage of SVG icons in logo design and want to brush up on the fundamentals, here is the place to be.
Why Should You Use Free SVG Icons In Your Logo?
Before learning about the key guidelines for using All Free SVG icons in logo designing, let us first understand why you should use them in the first place. It'll boost your confidence while infusing these elements into your work.
One of the main upsides of SVG icons is that they do not rely on resolution. They're scalable, which means, unlike other formats that pixelate when you zoom in, scalable graphics do not lose quality while you adjust them to suitable dimensions. The image quality remains intact.
This especially helps when used in logos. Because, just as formats other than SVG pixelate on enlarging, they also blur out when the image is too small in dimensions. The scalable vector icons, yet, retain their quality even when put through diverse conditions.
You can add hyperlinks and almost every type of animation through styling and scripting. You can easily edit them as per your design needs. All you'd need is designing software, for example, Illustrator, or even with the help of a text editor.
The File Size Is Just Right For Logos
The miniature file sizes of SVG icons are so famous! And it's an added advantage when designing logos. It makes your icon easily uploadable and viewable.
When it comes to designing logos, using SVG icons is like half battle won. There are countless shapes, patterns, styles, and categories that are available for free, and can be incorporated effectively into your logo. Why waste time when you have a plethora of icon options for instant use!
Now that you know your choice is apt, let us take a look at a few tips or guidelines that can help you achieve your icon-logo-goals.
1. Optimize The Graphic
When using icons for designing logos, you need to optimize the graphic. Ensure that the artboard size is standard. If you're combining two or more icons in your design, the size should be similar. Otherwise, in some browsers, it may constrict leading to a distorted view.
2. Grid It
If you're creating logos with the help of an icon, or different icon sets for that matter, consider creating a grid on which all your icons will be built. It'll allow you to strike a uniformity between the shapes. You can easily transfer or duplicate it to a different artboard or file.
3. Make Sure The Stroke Size Is Correct.
Because SVGs can be scaled, you'll need to choose a decent stroke width for minuscule use that also looks acceptable at very big sizes. While you're evaluating scale, be sure to check if your icons are recognized at very tiny and very big sizes. Prior to actually exporting, transform your strokes to paths once you've decided on a stroke size.
4. Use Free SVG Icons For Shapes
A logo is nothing but a single or bunch of different shapes, designed in such a way that it represents your brand name or purpose in a visually appealing manner. Using crisp and meaningful shapes can take your design to a next level. They can also trace a remarkable impression on the mind of the viewer because people tend to relate more to shapes. There are thousands of free SVG icons that carry versatile shapes.
If you're creating a logo for a principle-centric business, where focus, discipline, and perfection are the core values, you can go for sharp and symmetrical shapes like a square or rectangle. Similarly, you may choose a triangle if the brand suggests a risk-driven yet balanced approach. If it's eco-friendly, set up a natural shape like a leaf, symbolizing an organic or refreshing vibe.
Explore the vast collections of free SVG icon sets and choose the shapes that suit your requirements the best. In addition to the shapes, you'll need to focus on the typeface used for the wordmark.
5. Use Colorful Free SVG Icons
The color scheme lays a significant impact on your design. Research suggests that it takes just under 90 seconds for a person to make an unintentional judgment about a product or service represented by the logo. When using them, turn all the non-gradient colors into solid colors as these are more styling-friendly when they are built with CSS. It is advisable to export the file as entirely black or white so that the file size remains small.
You can use a variety of colorful SVG icons. They are available in colored outlines, colorfully filled patterns, and even monochromatic tones.
6. Use Gradient-Fill Icons
Gradients are a little underrated when it comes to using them in a logo. However, they can immensely contribute to making your design look unique. But, if you are not using the gradients owing to the size concerns, then here's a quick fix. Use an overlapping transparent layer which is up to 40% black, and then color the layer beneath with the help of CSS while keeping the color gradient with only one fill change.
Or, you could simply use the free SVG icons that feature gradient fills. These are also available in a variety of themes such as geometric, music, profile, industry, business, and much more. Plus, you can choose SVG from among different formats for the best designing experience and performance.
7. Cut Down On The Number Of Layers
Use the fewest number of layers feasible while designing your SVG. You can merge numerous shape pathways or combine multiple shapes into one with the help of the pen tool. This will make managing the shapes from your stylesheet easier and with less code, reducing the complexity of your SVG.
Also, eliminate all the grouping wherever possible for simplifying the pathways on your artboard. It'll keep your SVG less complicated and simpler to understand, allowing you to optimize manually, without having to sift through groups after groups.
8. Name Each Layer
As you go through all the layers in order to drop the unwanted ones, consider naming each layer with a descriptive label. It will help you expedite your logo designing process and make it easier for you to style, animate, and customize them.
9. Stick To Your Brand
When using free SVG icons in a logo design, designers often tend to drift away from the core idea of the organization. This happens because the internet is flooded with innumerable icon sets and all of them are alluring. It leads to a negative shift in the focus from designing the logo to becoming too experimental. 
Stick to the brand you're designing for, and reinforce the core values and ideas that need to reflect in the brand. Making a note of the vision and mission statement of the organization, and going back to it time and again throughout your project will also save you from distractions.
Winding Down
The information discussed above can serve as a great starting point if you're contemplating using icons in your logo. Free SVG icons have added a twist in the creative field, and designers are loving it. It has wide-opened the doors for ideas and execution. You think of something, and you'll see an icon depicting it. All free SVG icons have helped designers curb the stress of file sizes, picture quality, performance, and most, creative fatigue.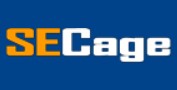 The Search Engine Cage team is on a mission to educate entrepreneurs. We make things easier for the small business owner, by writing articles that help them to understand SEO and Digital Marketing.