A valuable part of any business can be accomplished through the exchange of communication between users that is done through the usage of Electronic Mail for enhancing the business activities, and other personalize tasks. With the help of a global email network, people can communicate via email relatively fast. Because of its speed and adaptability, email is the digital counterpart of a letter.
Email may be used for a wide range of things, from keeping in touch with friends and family to getting information from instructors and employers. Sending communications with varying formality, target audience, or desired consequence is a common practice in business today.
In order to create trust with your customers, you may use email marketing to stay in contact with them and keep them informed about your company's progress. Clients have more faith in your company as they become more familiar with it and as they hear more about it. Highly effective messages and drafts can be shared with the worldwide audience in quick sessions. There are multiple email apps that can be operated via smartphones, Windows, and Mac operating systems.
Mailbird is a powerful email client that brings together a beautifully designed inbox, a feature-rich notification center, and thousands of available integrations. Its goal was to build a product that would help anyone be more productive in their Inbox. Most users check email during the day, and it is decided to build something that helps you do so with less effort.
The app is designed to meet the requirements of the Windows system as a valuable tool. Sending and receiving emails, and managing calendar events and contacts from many email providers, including Outlook, Gmail, Yahoo Mail, etc., is possible with the use of this desktop email client. There are also connectors for social media management, task management, file sharing, and video conferencing.
One of the most exclusive email clients for Gmail, Superhuman is only accessible on Macs and iOS devices. Existing users can invite you to the app, but those without the required hardware or software will be placed on a waiting list.
The speed of Superhuman is three times greater than that of Gmail, and it automatically joins threads using hotkeys and customized shortcuts. For personal tasks, you can use preset hotkeys and update filter settings. It allows you to organize emails and respond quickly with custom shortcuts.
Microsoft Outlook comes with an email personal information manager that provides comprehensive message-sending commands with the desktop operating system. Internet mail client or Microsoft Exchange Server for group scheduling and email and task management are all modes of operation for this application.
This desktop email client can also be used to keep track of a wide range of personal information, such as appointments, tasks, contacts, and notes, all in one place.
Spike is a one-stop shop for everything you need to get your day started. You can access all of your emails, chats, calendars, and more at once. Your Priority Inbox will be the first to see these communications.
As a result of features like notes, tasks, and video chats, you can run your complete workflow from one place: your email inbox. Emails are displayed in a chat-like conversational format using the Spike email client, which is available for Windows, Mac, iOS, Android, and the web as well.
Millions of people throughout the world use BlueMail, a cutting-edge email client. BlueMail, in contrast to other email clients, does not retain any emails or transmit passwords to their servers. Android, iOS, Windows, Mac, and Linux users will be able to access their email no matter which device they pick because of MagicSync's seamless login functionality and other distinctive features.
Android users may now receive real-time push alerts without having to share their passwords with its servers, the leading provider of mobile messaging solutions for both consumers and businesses.
Your emails are safe with Gmail since they are stored in the cloud. It is accessible via the web browser to access your messages from any computer or mobile device that has one. You get a gigabyte of storage and the option to search for individual messages with Gmail.
It is a free email service that works as a conversational thread that is created by the Gmail program automatically when two or more similar messages are sent. It is possible to join or initiate a video meeting from Gmail if your administrator authorizes it. You may use all of Google Chat's capabilities right from your Gmail inbox by adding it to your account.
Free, open-source, cross-platform Thunderbird is used to manage email, news feeds, and chats. Rather than being a browser- or web-based email client, it is a locally installed email client with powerful commands.
In terms of security, Thunderbird is a decent email client. Remember that Thunderbird is an open-source app, and Mozilla no longer maintains or updates it. To ensure that your email is accessible from any device, including Thunderbird, you can check the option to use IMAP on all of your devices.
eM Client makes it possible for users to view all of their data from a single desktop. Microsoft's SmarterMail is a Windows-based email collaboration and live chat platform. SmarterMail's online interface can be used instead of or in addition to this app.
IMAP and POP3 protocols are supported by the eM Client, which can synchronize items and download messages. In addition to improving your email communication, eM Client increases your productivity. Some of the salient features are included: Message encryption, Quick text, Message translation, Calendar and Tasks, Notes, Snooze incoming emails, and others.
At least one leg of the route must take place by air in order for the service to be marketed and sold as Airmail. In general, airmail items arrive more rapidly and cost more to deliver than those sent via surface mail. It was developed from the ground up to be a robust email client that can be customized to match your specific needs.
Use third-party integrations and custom actions to streamline your workflow. In order to use Airmail, all you have to do is open the app on any of your Apple devices. The app contains some valuable features, such as Smart Inbox, Unified Inbox, Privacy Mode, Multi-Account Support, Dark mode, Powerful filters, and other attachment support.
Even though it has only been on the market for a few months, the Postbox email software has already gained a large following. The comprehensible layout eases the workflow to keep track of all of your email addresses and inboxes. The app is embedded with features and settings available in the Postbox email client that make it an excellent choice for professionals.
Postbox is a sophisticated cross-platform email client that can be used on any computer running Linux, Windows, or Mac. You may send and receive emails from several email accounts, including Gmail, Hotmail, and Yahoo, just like you can with any other email client on the market today. In order to keep your account's emails up to date, they are sent and received via the server that hosts your email service.
With a slew of useful tools, Inbox by Gmail promised to help users get more done with their email by streamlining the process of sending and receiving messages. With a slew of useful tools, this tool promised to help users get more done with their email by streamlining the process of sending and receiving messages.
Organizes a collection of related emails into a single folder, highlighting the most important parts of each message and providing reminders, assistance, and snooze options.
Additionally, you have the option of deciding when fresh emails from each category are delivered to your Inbox. Every day, once every day or every week are all options. Once a week, you can tell Inbox to show the Promos part to you so that focus can be met with the need for your urgent attention rather than constantly checking the Promos section because it's a waste of time.
You may read and send emails, get notifications, and use sophisticated email capabilities with Spark as an email client. The Spark Mail app is the greatest alternative to Google's Inbox by Gmail service, with an impressive array of features to help you better manage your email. Spark is now accessible for free on iPhone, iPad, and Mac devices, with an Android version expected to arrive in the near future.
Professionals and their teams will enjoy Spark's excellent email service. It's an easy-to-use, aesthetically pleasing, and group-oriented email client. It does not sell user data and takes all necessary precautions to protect your information.
All of a user's email accounts can be gathered into a single list in Apple Mail, and it also lets you organize your emails into folders, perform keyword searches, and automatically append signatures to emails you send out. It is the finest email software for most Mac users if you are aware that you are not looking for a particular set of functionality that Mail is missing. Large files can be sent using Mail Drop, which uploads them to iCloud to facilitate sharing.
If you're still not a fan of the Mail app, Apple makes it simple to switch to another one as a standard setting on your computer. The program has features that include the ability to store emails in folders, search for emails, and automatically add signatures to outgoing emails. It can also be configured to receive emails from all of a user's email accounts in one list. With Handoff, you may begin writing an email on your Mac and continue from the exact same point on your iPhone's Mail app.
A secure email service called ProtonMail (opens in a new tab) seeks to address these issues. Your private emails are sent using end-to-end encryption, which prevents anyone from reading them. This Android app is uncomplicated and straightforward, albeit it can be challenging to read text due to the screen's bright color. Rules and filters can automate your workflow, and folders and labels help categorize your emails.
It can be difficult to implement ProtonMail throughout an organization because you'll need every member of your team to use it in order to benefit from the service to the fullest. The app's usability isn't nearly at the level of, say, Gmail. However, ProtonMail is undoubtedly the best user-friendly encrypted email service currently offered in 2022 if privacy is your top priority.
Conclusion
These have been the best apps for sending electronic information and sensitive messages. Users can use these services without fear of data decoding and third-party involvement as all the database is protected with end encryptions. Each app contains specialties and provides great commands that can be helpful for any business startup or formal communication.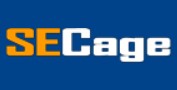 The Search Engine Cage team is on a mission to educate entrepreneurs. We make things easier for the small business owner, by writing articles that help them to understand SEO and Digital Marketing.