Online shopping has become a frequent activity for many people today. Amazon is one of the well-known online merchants, offering a vast range of goods and services at the touch of a button. Getting digital services from amazon is simple, but you should be aware of the possibility of Amazon Digital Charge.
You may have seen pop-ups from amazon like "AMZN Digital", "Amazon MKTP Charge", 8888023080, or 888-802-3080 on your phone. All these are Amazon Digital Charges. This article will discuss Amazon Digital Charge and everything you need to use this platform wisely when shopping.
What is an Amazon Digital Charge?
Amazon Digital Charge refers to any changes made to an Amazon account for buying digital things like e-books, music, videos, or other downloadable content. These services often provide free 30 to 90-day trials.
Amazon Pay orders are charged after the free trial has expired and charge an auto-renewal fee. This way a user continues using the service without making a transaction manually. So, unless the customer disables the Auto Renewal option, this turns into a fully paid membership.
If this happens, check "Accounts & Lists/Orders/Digital" to check if it is a one-time order or not. Checking "Accounts & Lists/Memberships & Subscription" is another option. Here, the user can find out if they have subscribed to digital services like Kindle Unlimited or Amazon Music Unlimited on a monthly or yearly basis.
Monthly Subscription
A monthly subscription is less costly. So, it is more budget-friendly for the customer. New consumers can begin more easily because there is less of a huge investment required.
Annual Subscription
But, annual subscriptions cost more upfront, and they are cost-effective in the long term. This makes sense if the user intends to use Amazon's digital offerings constantly.
How Much Does Amazon Digital Charge Cost?
The amount customers have to pay for Amazon digital charges will depend on the subscription chosen. The subscription price can be collected every month or every year, depending on the plan. The cost of these services can range from $0.99 to $119.
To know how much Amazon charges for a specific subscription, the user can check the pricing page on Amazon's website. In addition to subscription fees, a customer may be charged for software purchases like video games or productivity apps they make on amazon.
What Are The Reasons for Unknown Amazon Digital Charges?
Sometimes it is okay to have Amazon Digital Charge because some people choose to sign up for Amazon's services and are billed every month or year. But sometimes you may get charges you did not mean to get because you accidentally signed up for something, forgot you were paying, or someone else bought something without your permission.
Accidental Subscription
When customers are browsing Amazon, they may accidentally sign up for a service without realizing it. This can happen if they click a button without reading the terms and conditions properly. As a result, they may be charged for a subscription they didn't intend to purchase.
Forgotten Subscription
Forgetting about a subscription is another reason why customers may face unexpected expenses. Sometimes, customers may forget about subscriptions they have signed up for, especially if they don't use them often. Over time, the cost of these subscriptions can accumulate, and users may end up getting charged for services they don't even use.
Unauthorized Purchase
Finally, fraudulent purchases can also result in unexpected charges on an Amazon account. If someone unauthorized gains access to a customer's account and makes purchases without their knowledge or consent, this can happen.
How You Can Avoid Amazon Digital Charges?
To avoid unexpected charges on an Amazon account, it is important to take certain precautions. Here are some tips on how to avoid Amazon Digital Charge:
Review Your Subscriptions
To prevent unexpected expenses, it is important to review the subscriptions regularly. Make sure you are only paying for the services that you actually use and cancel any subscriptions that you no longer need. This will help in avoiding unnecessary charges. Make sure the email address is current, So, there is no chance of missing notifications regarding subscriptions to digital services.
Set Spending Limits
If you set a limit on how much you can spend on Amazon, you can avoid getting charged more than you can afford. You can do this by going to your account settings, choosing "Your Payments," and limiting how much you want to spend on online purchases. Once you have spent that amount, you would not be able to buy anything else from Amazon until the next billing cycle.
Switch off One-Click Purchasing
When you use one-click shopping on Amazon, you can accidentally buy things you did not mean to. To avoid this, you can turn off one-click purchasing. Just go to your account settings, choose "One-Click Settings," and turn off the option for all digital purchases.
Use Parental Controls
If you share your Amazon account with kids or other family members, you can prevent them from buying things without your permission by adding parental controls. Just go to your account settings and choose "Parental Controls". From there, you can set limits on what they can see and buy based on their age and the type of content you want to block.
Final Words
In conclusion, Amazon Digital Charge can be a useful and convenient way to purchase digital services from amazon. But it is important to use it carefully to avoid unexpected expenses. By regularly reviewing subscriptions, setting spending limits, turning off one-click purchasing, and using parental controls, customers can prevent accidental or unauthorized charges. By taking these precautions, customers can enjoy the benefits of Amazon's digital services without worrying about unexpected charges.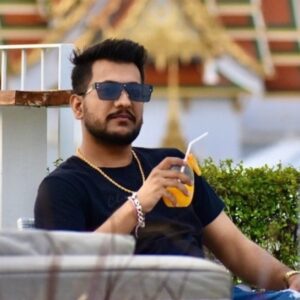 Deepak is the founder of Tech Webers, an expert in website development and SEO. He helped many start-up companies to grow their traffic and sales.