Are you tired of the same old lead generation tactics that do not seem to work anymore? Well. Let us spice things up with LinkedIn magic!
LinkedIn is a powerful tool for lead generation, with over 930 million users worldwide.
If you are not taking advantage of this platform for generating leads, you are missing out on a huge opportunity to connect with potential clients and grow your business.
In this article, we will show you how to use LinkedIn for lead generation and provide tips on how to make the most of this problem.
Use an email extractor tool
An effective way to generate leads on LinkedIn is by using an email extractor tool. This tool helps you extract the email addresses of your LinkedIn connections or potential clients.
For example, with the GetEmail.io LinkedIn extension, you can get anyone's email address with just a click.
Once you have their email addresses, you can reach out to them directly and pitch your services or products.
For example, let us say you are a digital marketing agency looking for new clients.
You could use an email extractor tool like GetEmail.io to extract the email addresses of your LinkedIn connections who work in marketing or own a small business.
For this, first, you will have to head over to their profile and then hit the GetEmail.io button.
Optimize your LinkedIn profile
Is your LinkedIn account well-optimized?
Your LinkedIn profile is your digital business card, so make sure it is complete and optimized for lead generation.
Not sure how to do that?
Here is a tip, you can include a professional headshot, a strong headline that reflects your expertise, a summary that displays your skills and experience, and a detailed work history that highlights your accomplishments.
And do not forget to add your contact information, including your email address and phone number, so potential clients can get in touch with you easily.
Pretty simple steps, huh?
Build a targeted network
The key to successful lead generation on LinkedIn is building a targeted network of connections.
Start by connecting with people you know, such as current and former colleagues, clients, and industry peers.
However, never try to widen your connection by just adding anyone and everyone! Be strategic and think about who your ideal clients are.
Then, use LinkedIn's search tools to find potential clients in your target market. This way, you could be sure that all your connections are highly relevant to your niche.
And when sending connection requests, remember to personalize your message and explain why you want to connect with them.
By doing this, you will give them the idea that you are not just trying to get more followers but are interested in their profile.
For example, if you are a graphic designer specializing in branding for small businesses, you could search for "small business owners" or "entrepreneurs" and connect with those who fit your target market.
Share valuable and creative content
To attract potential clients on LinkedIn, you need to provide value.
And how do you do this?
Well, you can share articles, blog posts, and other content relevant to your target market and highlight your expertise.
Remember that LinkedIn is filled with professionals who love to acquire knowledge and great insights. Hence, publishing posts is a fantastic way to attract potential audiences.
Do not be afraid to share your own content, such as blog posts or whitepapers, that demonstrate your knowledge and experience in your industry. Your work will be appreciated.
So, each time you plan to publish posts, be creative, and think outside the box, you will surely be astonished by the result.
Participate in groups
LinkedIn groups are a fantastic way to connect with potential clients and highlight your expertise.
Join groups that are relevant to your target audience and engage in the discussions by offering your perspectives and providing answers to the topics posed.
This can help you form relationships with potential customers and establish yourself as an authority in your field.
For example, let's say you are a career coach, you can join groups related to job searching or career development. Once you are in a group, participate in discussions by sharing your insights and answering questions.
Use LinkedIn's advanced search
Have you ever used the advanced search option on LinkedIn?
If not, then just try it now!
Because LinkedIn's advanced search feature allows you to find potential clients based on a variety of criteria, including job title, company size, and location.
You can use this feature to narrow down your search and find high-quality leads.
With this advanced search feature, you can also save your searches and set up alerts to be notified when new leads match your criteria.
Reach out to potential clients
Once you have identified potential clients on LinkedIn, reach out to them with personalized messages.
Explain why you think your services would be a good fit for their business and offer to set up a call or meeting to discuss further.
Do not be pushy but be persistent and follow up regularly to keep the conversation going.
Concluding thoughts
As discussed in this article, LinkedIn is a powerful tool for lead generation if used correctly.
By optimizing your profile, building a targeted network, sharing valuable content, participating in groups, using advanced search, and reaching out to potential clients, you can generate high-quality leads and grow your business.
So, start using LinkedIn today and watch your business grow!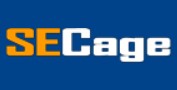 The Search Engine Cage team is on a mission to educate entrepreneurs. We make things easier for the small business owner, by writing articles that help them to understand SEO and Digital Marketing.