So you've finally decided to take the plunge and start your very own online business. Congratulations! After all, there is nothing better than living life on your terms and choosing what's best for you rather than someone else.
No matter what type of business you're going to be running, a website is a must these days. But before you can even set one up, you're faced with a very important decision of what domain to choose, a virtual plot of land that people are going to visit to find out more about your products or services.
From memorability to SEO, there are many things to consider before pulling the trigger and registering a domain. Today, we're going to walk you through each and give you the key takeaways.
Keep it simple
When someone asks you what your website is called, you want to give them a memorable answer. In practice, this translates to something short, yet descriptive enough to tell a story of what you're all about. Call it branding if you will, but the principle is the same – you want to make it as simple as possible for someone to visit and learn more. In concrete numbers, this probably shouldn't be more than 14 characters. Don't make it too hard to spell either.
SEO considerations
We've all been taught to cram a keyword in there if at all possible for SEO reasons. However, don't stress it too much; in the long term, you want to stay focused on building a brand, so prioritize brand-ability. At the same time, there are certain SEO no-nos to keep in mind, so avoid putting too many hyphens and numbers in there (this would look spammy to Google). Some would also say to avoid typos, but bear in mind that certain brands might choose one deliberately – Scribd comes to mind.
Make it unique
When you think you've come up with the perfect domain name, it's a good idea to double-check it against the competition to make sure it's unique. The last thing you'd want to do is to pick something that's too similar or, worse yet, a trademark violation of some sort. If it's a real obvious infringement like picking some Fortune 500 name and only changing one single character, the domain can get confiscated by the registrar (or you might even lose it in legal proceedings if the matter escalates).
Consider your TLD options
Top-level domain extension (or TLD for short) is the part of your domain that comes after the last dot. Although .com, .net, and .org are the most popular by far, there's no need to limit yourself to them. What you'll find is that, over the years, online competition has increased simply due to the fact that more and more people are warming up to the idea of running an online business. Besides, it's good to have a country code TLD if you want to make it clear that you're serving your local market. For example, consider getting a ca domain if you're targeting customers in Canada.
Don't niche down too much
In SEO circles, you're often told to go after long-tail keywords, and that's a completely legitimate strategy! However, what you don't want to do is lock yourself in and inhibit your brand's growth potential. For example, "blue widgets for career seekers" may be the kind of niche you want to pursue due to it being low-competition and thus easier to enter, but as a domain name, you can probably do better. Something like "blue widget advisor" would still get the message across, all while giving you the capacity to expand your business at some point in the future (should you choose to).
Use brainstorming tools if necessary
If the good old "pen and paper" method for discovering a good name doesn't sound appealing to you for any reason, there's no need to do it the old-fashioned way. In the modern age, we have brand names and domain name generators. If you've visited any domain registrar lately, you've probably already seen one in action. Basically, you input a seed keyword and the tool generates suggestions based on it, either as variations or by appending a word to it. Although there are no real shortcuts to picking a good domain name, this method is as close as you can get.
Double-check its history
Have you stumbled upon what seems like a diamond in the rough, unregistered, and ready for you to claim? Before you jump in head first, make sure it doesn't have a shady history or some kind of SEO penalty attached to it that would make it harder to rank in the search engines, not to mention tarnish your good reputation. For starters, Wayback Machine is a good free tool to use and it displays chronological snapshots of the website and how it has changed over time. If you know how to use a backlink checker, it might be worth checking what kind of backlinks are pointing to it and making sure none of them originate from a bad neighborhood.
Conclusion
With the help of these tips, you should be able to pick a domain name that best suits your business. In the end, a domain name is something that stays with you as your business grows, so it makes sense to invest some time into choosing a good one that fits the criteria mentioned above.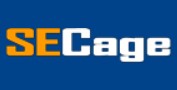 The Search Engine Cage team is on a mission to educate entrepreneurs. We make things easier for the small business owner, by writing articles that help them to understand SEO and Digital Marketing.